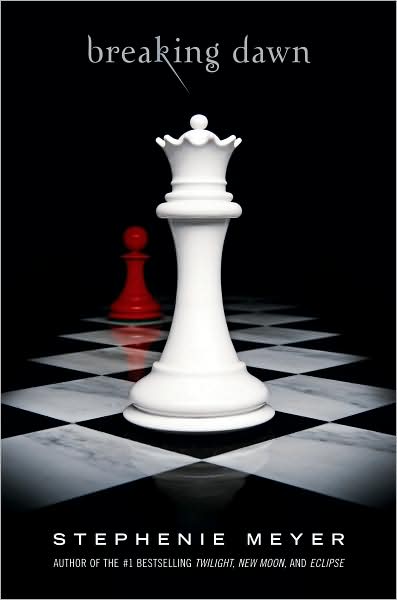 I was hesitant to talk about the 4th book in the Twilight series and give everyone a chance to read it. But it's been 17 days nows... that's enough... and we had our book club yesterday and I hardly got to say what I really felt, since so many people LOVED the book.
DISCLAIMER: if you don't want spoilers, stop reading!!!
I COULDN'T STAND reading this. I thought that it would never end. There were moments that were okay... like some of the first 2 parts, even though I still had problems with a lot, but it was readable. But, I should just know before I read another Stephenie Meyer book, that she can never execute an ending that I will like... EVER!!! When I was down with the birth and the turning into a vampire, I looked at the book and thought, what the Heck? I still have 370 so pages left, what could happen? I think it was about 300 page tooooo long!!! And then where was no action? If you are going to write a book that has over 750 pages, there better be some action!! For crying out loud! They're VAMPIRES!! Let's have some blood!! Stupid passive vampires!!
And all though I wanted Bella to become a vampire, I missed her humanity. But, come on... did she have to be the "Ultimate Super Indestructible Mega-Vampire!" It wasn't fun anymore. Even though Bella was never my favorite character, I hated her as a vampire. Couldn't she still be clumsy? The bumbling lovable vampire that everyone just smiles and says, "... ah, it's just Bella..." and they laugh together. Ha...ha...ha...
A friend and I talked about this, which I agree, I don't like neatly wrapped packages. Some people, (Becka) have to have the neat package. Maybe Stephenie Meyer is the same. She is afraid to kill off characters. You ask is that bad? I think so. Unlike JK, who definitely is NOT afraid to kill off characters, but don't you think you need to feel sorrow, to truly understand JOY?
All I can say about this - it was a very valuable lesson to me, as a writer, of what NOT to do. It was my disappointment with "Eclipse" that led me to write my book in the first place.
So if I ever get my book published, I will have to thank her for firing me up!!!